For 5,000 years, humans lived in the past tense: "Yesterday was the same as tomorrow. " For the next 500 years people lived in the present tense: "Today can be whatever we want it to be." But now, for the next 50 years we must start living in the future tense: "Tomorrow's social, economic and political constraints must become today's reality."
<![if !vml]><![endif]>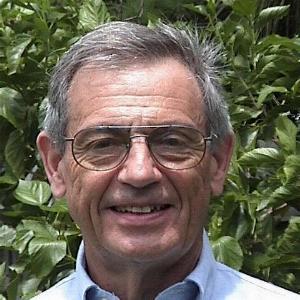 I have now completed a preliminary draft of a new book, Living in the Future Tense. This book extends the concepts previously developed in my "Forms for a Future" podcast and blog to the personal adjustments we need to make to have a future; a brief introduction to Forums for a Future is also available as an ibook.
I have been a Professor of psychology at the University of Pennsylvania, the University of Illinois, and at Dalhousie University in Canada. I am now retired and for a number of years taught "Forums for a Future" as an honors course at the University of South Florida.
My academic research and university teaching has been on the psychological aspects of social issues, including police community relations focusing on excessive use of force, sexual assault focusing on the legal aspects and the criminal justice system, on higher education focusing on teaching and learning in the 21st Century, and other related topics. Additional information is available on my professional web site.
The core assumption of my scholarly work on social issues is that our economic, political and social ideologies are increasingly meaningless distractions. We do not live in a fact-free ideological world. There is rational empirical knowledge from the biological, natural and social sciences for clarifying the beliefs and values necessary for living peacefully and sustainably on a crowded plant – how to find and maintain this knowledge-based sense of direction is the psychological process of Living In the Future Tense (LIFT).
Preliminary Draft
(Click on link)
This preliminary draft will be made available online for anyone who would like to consider participating with me in the process of revising and editing the material to produce a public-collaborative open-source book on the question of our time: "How to live peacefully and sustainably on a crowed planet in the 21st Century."
Working Copy
(Starting date to be announced)
I will place each chapter sequentially in a public blog for comments, suggest revisions and general discussion. The feedback and public discussion will be used to create a final published version of each chapter.
Public Version
(Not yet available)

Each published chapter will be posted on-line and will allow for a new round of reader comments and discussion. As a result, the book will be an open-source, continuous work-in-progress.
Public Participation
(Not yet available)


LivingIntheFutureTense.org is intended to become an informal group of public scholars using information from the physical, natural and behavioral sciences to address the question of our time. Original contributions by participants will be considered for inclusion with full acknowledgment.